Microsoft has announced changes are coming to the Microsoft CSP program for seat based offerings (Office 365, Microsoft 365, Dynamics 365 and more) starting January 2022 (original date of GA: October 14, 2021).
Want a Sneak Peek?
TD SYNNEX is now offering an exclusive technical preview and you're invited! See first-hand what these changes will look like and learn how to improve your customers' transition process.
This is the largest and most important update to the CSP program since the launch of CSP in 2015, and the change will impact the way, you do business in CSP today and make the foundations for new business opportunities in the future.
Register for your Microsoft NCE technical preview here! 
The update includes:
Enforcement of no-cancellation policy. You can no longer cancel or reduce seats during annual term, only at renewal of term.
New monthly subscription option. Customers, who require more flexibility to adjust seats may choose the new monthly term offers with a premium price.
New options to manage subscriptions, including upgrading products and schedule changes for renewal.
Easier to understand billing data and less administrative work.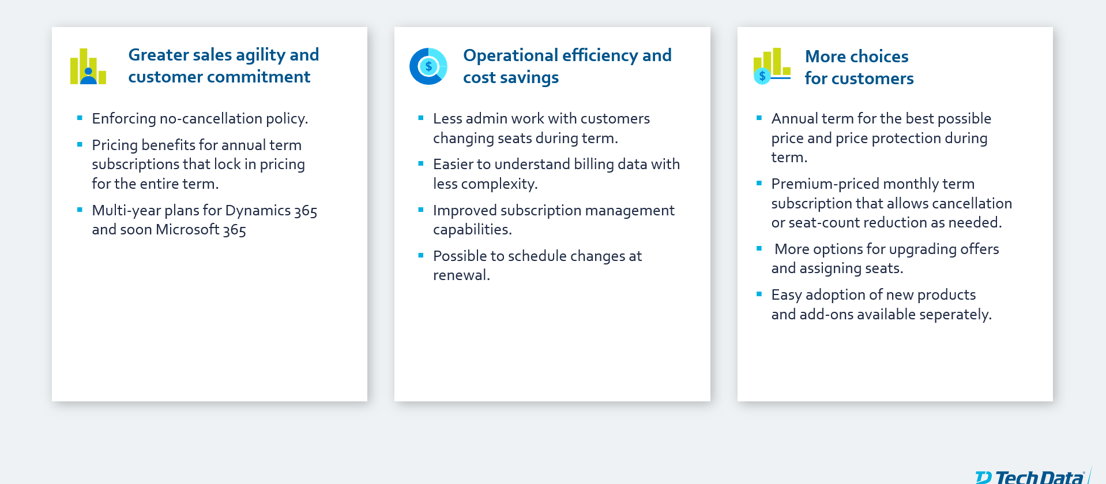 More intuitive purchase experience for partners making it easier to meet the diverse needs of customers.
The update to the Microsoft CSP program for seat-based offers are part of the modernization of Microsoft Commerce options aligning Microsoft licensing programs, tools and services designed to make it more simple for customers to do business with Microsoft and partners. Microsoft has named this "The New Commerce Experience", or in short "NCE").
During the last two years, we did see Microsoft making changes to the partner and customer agreements, and introducing new services in the CSP program. The new commerce experience was launched in CSP for Azure plan, Server Subscriptions, and Azure reserved instances in 2019, and now in October 2021, Microsoft will introduce a new set of offers in the new commerce experience for Microsoft 365, Dynamics 365, Power Platform and Windows 365. Simultaneously, as part of this launch, an array of new features and functionalities will be introduced to CSP, in response to partner requests and customer needs.
These efforts will result in a more intuitive and streamlined purchase experience for partners, making it easier to meet the diverse needs of customers and reducing the complexity of the overall sales process between partners and their customers. The revisions and additions to policies, functionalities, offers, processes, and billing included in this release have two goals:
Introduce a set of new offers, policies and functionalities that will replace the current experience for partners in CSP. In new commerce, customers have a consistent set of policies, agreements, and procedures across all purchase motions, regardless of how the purchase happens (through a partner in breadth (CSP), through a Microsoft seller in enterprise or directly on one of Microsoft's commercial marketplaces or online portals).
Complete the foundation in new commerce for transforming the way partners sell and customers buy in the cloud, and enable partners to expand their cloud business, offerings, and services in the years ahead.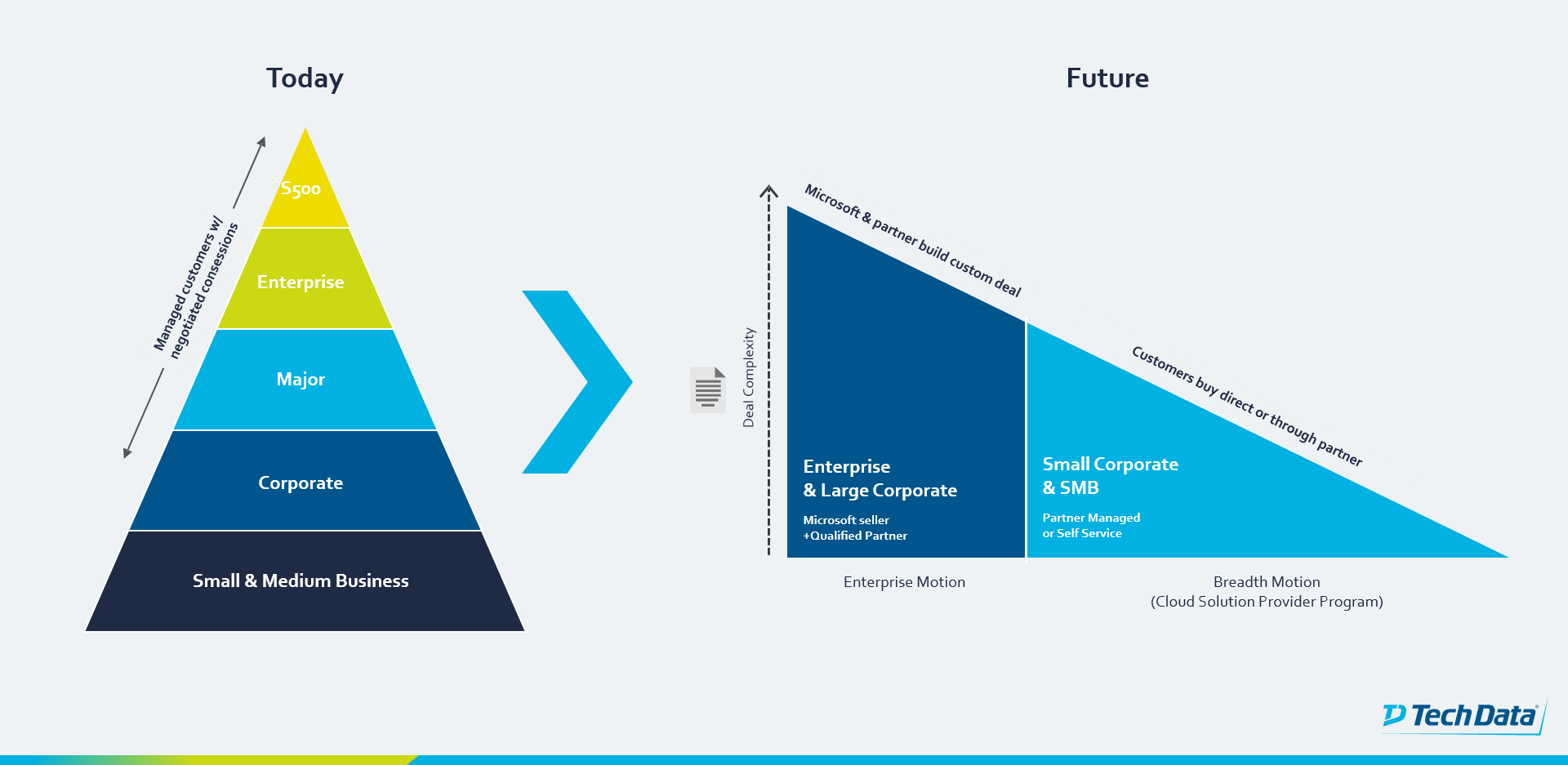 Microsoft is simplifying the customer purchase experience, making it easier to choose the right path for your Microsoft business.
Of course, this update to the CSP program may be a significant change to the way, you do business with Microsoft. And certainly we will have some work together to land the change well with our existing customers and help them upgrade from the previous CSP-offers to the new offers.
The good news; we are ready to support you.
TD SYNNEX Sales Teams, Solution Experts and License Desk are ready to support you find the best solution for your customers and help you upgrade from previous offers to the new offers.
StreamOne Cloud Marketplace is ready to support the new commerce offers and billing logic. As Microsoft launches the new offers October 14th, you will be able to place your orders in StreamOne Cloud Marketplace.
During the next months we will assist our reseller partners creating the best plan to upgrade from previous CSP-offers to new offers.
We will host multiple webinars and trainings to help our partners and their sales-staff understand the changes and how to navigate the new commerce offers.
And please remember, any change from Microsoft is a good opportunity to engage with existing partners and new prospects.
Use the opportunity to do a right-sizing assessment of their licensing
Inform your customers how to benefit from choosing Microsoft 365 to address security concerns
Maybe your customers needs help to adopt Microsoft services like Teams
Or maybe you will identify a cloud migration project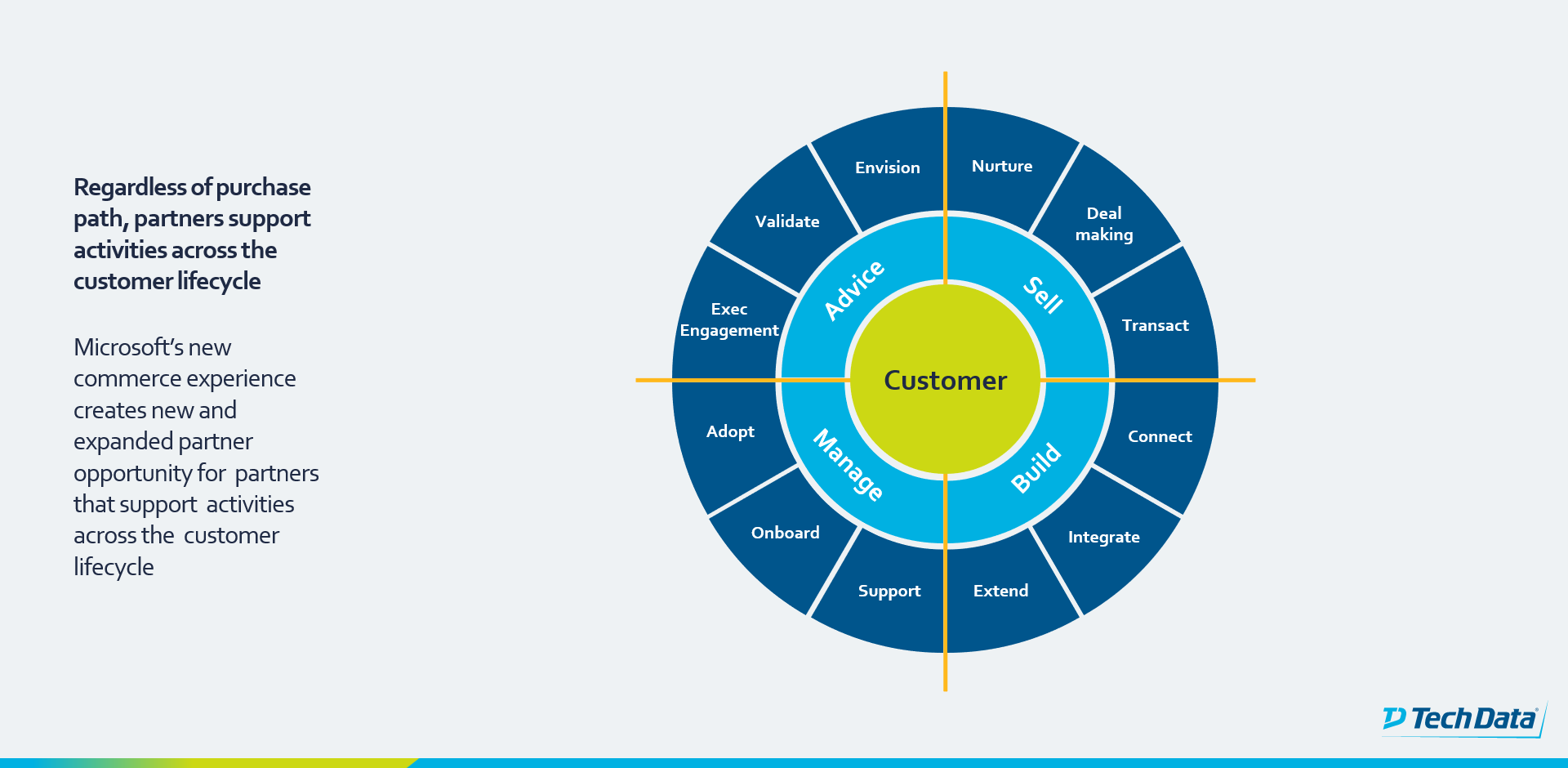 Use the opportunity to engage with your customers and identify opportunities to assist with your services
Microsoft resources related to Microsoft New Commerce: